Epic Mexico, Belize & Guatemala
Booking Dates
07/02/2023 through 11/16/2024
Travel Dates
07/02/2023 through 11/19/2024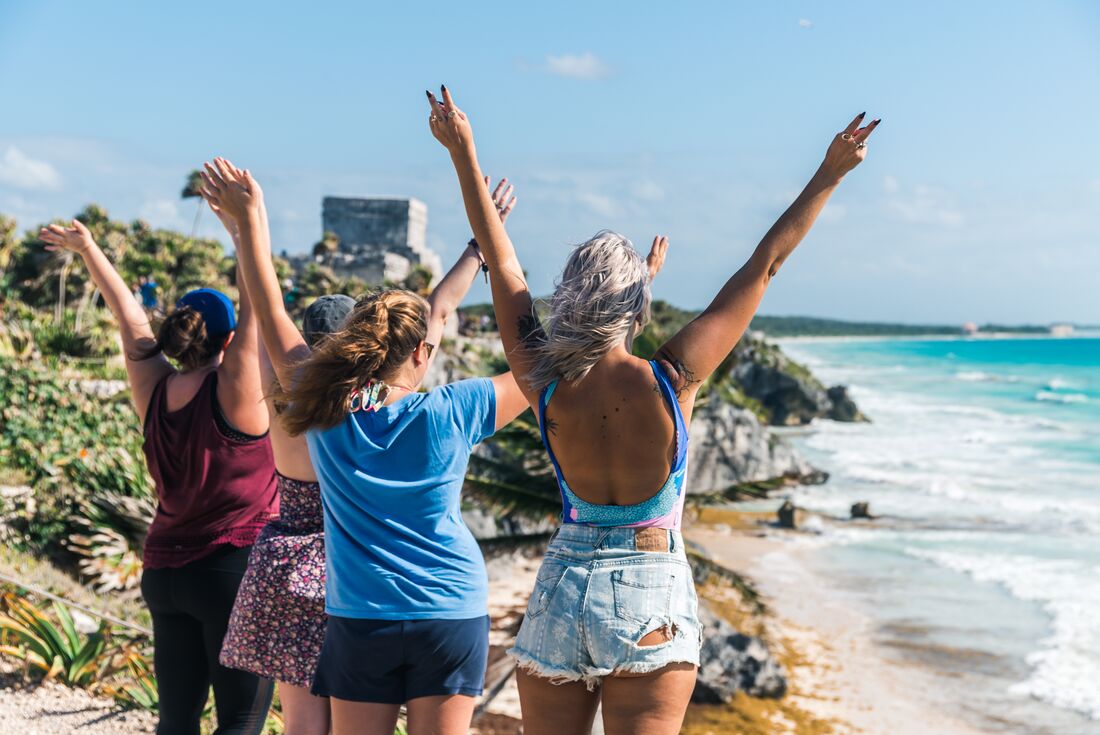 Epic Mexico, Belize & Guatemala

Take a Central American history lesson, eat some delicious food and soak up the Caribbean sun on your 30-day epic adventure through Mexico, Belize and Guatemala. Taste some tacos on a street food experience in Mexico City, pick up traditional handicrafts in Oaxaca, Chiapas and Merida, check out the yellow city of Izamal on a guided tour, delve into island life and the pristine underwater worlds in Belize, sleep on the shores of Guatemala's Lake Atitlan and stroll the cobbled lanes of colonial Antigua. These three colourful countries are the right amount culture, beach and spice, with some surprising extras thrown in.

Activities
Mexico City – Leader-led Taco Crawl
Mexico City – Leader-led orientation walk
Oaxaca – Leader-led orientation walk
San Cristobal de Las Casas – Leader-led Orientation Walk
Zinacantan – Maya Church (entrance fee)
San Juan Chamula – Maya Church (entrance fee)
Agua Azul – Waterfall Visit
Leader-led Informal Spanish Lesson
Palenque – Archaeological site (Entrance fee & Transport)
Playa del Carmen – Leader-led Orientation Walk
Playa del Carmen – Paleteria visit (Mexican Ice-cream store)
Izamal – Convento de San Antonio de Padua (Entrance)
Izamal – Leader-led orientation walk
Chichen Itza – Archaeological site
Leader-led Informal Spanish Lesson
Tulum – Leader-led orientation walk
Caye Caulker – Leader-led orientation walk
Tikal National Park – Archaeological Site Tour (Entrance fee & Transport)
Chichicastenango – Market Visit
San Juan La Laguna – Weaving & Dyeing experience
San Juan La Laguna – Midwife home visit
San Juan La Laguna – Medicinal Garden
Antigua – Leader-led orientation walk
Highlights
You've never seen true colour until you've been to a Mexican market. Practice your bargaining skills, snap some photos and pick up traditional handicrafts in Oaxaca, Chiapas and Merida.
Escape the Mexican heat in the culturally-rich highlands of Chiapas. San Cristobal de las Casas has an old-world town vibe, surrounded by ancient tribal villages.
Head deep into the jungle and experience the lush wilderness and cultural significance of Palenque and Lacanja – a real Indiana Jones moment.
Visit the historic site of Chichen Itza to understand why these ancient Maya ruins are one of the new Seven Wonders of the World.
Extended time in Caye Caulker and Antigua offers the perfect opportunity to enjoy laidback island vibes as well as buzzing colonial city life.
There's nothing quite like eating with a local family to really experience a place. At lunch you'll be experiencing traditional Guatemalan hospitality while improving your Spanish with the locals.
| Day | Description | View All |
| --- | --- | --- |
| Day 1 | Mexico City | Details |
| Day 2 | Mexico City | Details |
| Day 3 | Oaxaca | Details |
| Day 4 | Oaxaca | Details |
| Day 5 | Oaxaca / Overnight bus | Details |
| Day 6 | San Cristobal de las Casas | Details |
| Day 7 | San Cristobal de las Casas | Details |
| Day 8-9 | Lacanja River | Details |
| Day 10 | Palenque | Details |
| Day 11 | Merida | Details |
| Day 12-13 | Merida | Details |
| Day 14 | Playa del Carmen | Details |
| Day 15 | Playa del Carmen | Details |
| Day 16 | Tulum | Details |
| Day 17 | Tulum | Details |
| Day 18 | Caye Caulker | Details |
| Day 19 | Caye Caulker | Details |
| Day 20 | Caye Caulker | Details |
| Day 21 | San Ignacio | Details |
| Day 22 | San Ignacio | Details |
| Day 23 | Tikal National Park | Details |
| Day 24 | Rio Dulce | Details |
| Day 25 | Rio Dulce | Details |
| Day 26 | Antigua | Details |
| Day 27 | Chichicastenango / Lake Atitlan | Details |
| Day 28 | Lake Atitlan | Details |
| Day 29 | Antigua | Details |
| Day 30 | Antigua | Details |