Russia
Copyright: dimbar76/Shutterstock.com
Russia
The world's largest country, Russia is a nation that, in many ways, defined the course of 20th century's world history. Bohemian Saint Petersburg is a journey into tsarist imperialism, monumental Moscow still breathes a Soviet aesthetic, and those who wish to dig yet deeper must embark on an expedition into the Russian Far East along the Trans-Siberian Railway, via the growing regional centres of Yekaterinburg and Novosibirsk, and the world's largest lake, Baikal.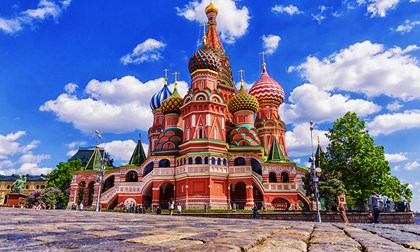 Copyright: dimbar76/Shutterstock.com
Moscow is a city of contrasts where the bohemian and the glamorous merge in an idiosyncratic fusion – do not be surprised to find a golden-domed 16th-century church next to an ultra-modern glass skyscraper or a Soviet blockhouse. Here, salty fish eggs (caviar) are washed down with bubbly champagne, and worn-out commuters travel by the elaborately decorated, elegant metro, one of the city's main attractions.